Inlet-Based Stormwater Treatment
---
Suntree Technologies Grate Inlet Skimmer Baskets TM (ISB)
---
Grate Inlet Skimmer Baskets TM (ISB), for both grated and curb inlets, are designed to to keep sediment, hydrocarbons and litter out of the storm drain system as a permanent BMP for post-construction stormwater quality. Inlet Skimmer Baskets can be made in various sizes and shapes, based on the type of inlet.
GISB's are ideal in situations where there are less than 20 inlets which drain to a single outfall.ISB's will cost less, provide equal or better treatment and be much less expensive to maintain than virtually any traditional end-or-pipe treatment system. GISB's are also ideal as pretreatment systems for underground and surface detention ponds.
Benefits
80%

TSS

Removal Rate
Lowest Cost of Compliance Among all Best Management Practices
Lowest Cost of Maintenance among all Best Management Practices
Quick Installation/No Drilling Required on Grated Inlet Skimmer Baskets
GISB Sizing Chart

Model #

Grate Size

Width

Length

Depth

Treatment CFS

12" x 12"

12"

12"

12"

2.1 cfs

18" x 18"

18"

18"

18"

4.6 cfs

24" x 24"

24"

24"

24"

14.9 cfs

27" x 27"

27"

27"

24"

14.9 cfs

30" x 30"

30"

30"

25"

27.8 cfs

36" x 36"

36"

36"

25"

23.4 cfs

5' Curb Inlet

varies

60"

24"

6.68 cfs
Custom sizes available upon request
---
StormBasin™
---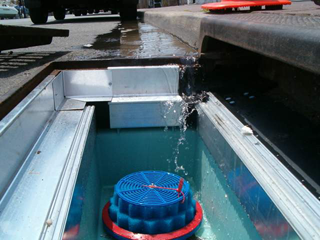 The StormBasin is designed to capture and retain stormwater catch basin pollutants namely: sediment, trash, vegetation, nutrients, coliform bacteria, oil/grease and dissolved metals (e.g., lead, copper, cadmium and chromium).
The large sediment and debris catch basin provides ample storage volume for solids carried in stormwater flows – over 8 cubic ft in the 30″ x 48″ size. The catch basin's design features a "hooded" bypass to reduce the potential for flooding during peak storm events while still retaining sediment and debris. The StormBasin also keeps the captured material dry, simplifying maintenance and reducing disposal costs.
The lightweight filter cartridge comes fully assembled and snaps into place with a quick twist. Filter cartridges are available in various configurations allowing you to fine tune performance by targeting specific pollutants. The modular cartridge design allows quick and easy replacement while containing the spent material for safe transportation and disposal.
Features summary:
Replaceable filter cartridges can target specific pollutants
Durable, aluminum frame with large volume injection molded basin
Covered bypass retains trash during extreme rain events
Adjustable mounting system, long life, competitively priced and low cost of ownership
---
TrashGuard®
---
TrashGuard® is a patented stormwater pretreatment device that captures debris, sediment and floatables. TrashGuard® is easy to install and maintain and costs a fraction of other pretreatment devices currently available. TrashGuard® has extensive testing and an available calculator to assist design professionals in selecting the correct screen size for their particular project
Benefits
Captures debris, sediments and floatables
Simple retrofits to existing catch basins
Installs without heavy equipment
Adjusts to irregular catch basin bottoms and/or walls
Eliminates eyesore stormwater trash at public parks, beaches, and waterways
Sediment reduction protects fish, shell fish, aquatic life and human recreation