ECONEWS
The Latest in Stormwater News and Information
HELLO,
We have curated some of the top news stories in the stormwater industry from this past month, as well as a few other items of interest. We appreciate you taking the time to read our ezine and hope that you find this stormwater related news as interesting and informative as we do.
Sincerely,
The Construction EcoServices Staff
New York City wetland project balances economy, ecology
wef.org
Ahead of a $1.6 billion revitalization project in New York City's Staten Island borough, the New York City Economic Development Corp. (EDC) is piloting an innovative strategy to simplify regulatory compliance and save developers money without compromising the benefits of the New York-New Jersey Harbor Estuary's remaining wetlands.
---
Houston, Texas, considers massive underground stormwater tunnel project
wef.org
Although downtown Houston, Texas, sits only about 15 m (50 ft) above sea level, enough room exists underground to build a massive tunnel system for stormwater conveyance, according to the preliminary results of a Harris County Flood Control District (HCFCD) inquiry. The conveyance system would span about 16 km (10 mi) and consist of tunnels 8- or 12-m-wide (25- or 40-ft-wide), according to an HCFCD release. The agency enlisted a team of seven engineering consultancies led by Freese and Nichols (Fort Worth, Texas) to determine whether such ecological factors as soil type and underground geology are suitable for such a system.
---
Stormwater and stream restoration agencies achieve more by working together, study finds
wef.org
To help curb the effects of urban runoff on streambank erosion, the question municipalities must confront is whether to reduce flows or toughen channel banks. The best answer, according to Rod Lammers, lead author of a new University of Georgia (Athens) research article exploring ways to optimize erosion control, is both. The challenge is getting different agencies to work together. "Piecemeal approaches to stormwater management and stream restoration miss synergistic benefits," Lammers said. "They make restoration projects more prone to failure, wasting valuable resources for pollutant reduction."
---
New Study Reveals Facilities Are Lacking In Stormwater Management
wateronline.com
New Pig Corporation, the world's leading provider of products to control leaks, drips and spills, today released the Stormwater Management Survey, an in-depth look at how well businesses understand the problems presented by contaminated stormwater discharge and the strategies used to mitigate the issue. Polling more than 300 individuals from manufacturing, government, repair, automotive, transportation and construction, the survey found that the majority of industrial facilities are not following proper stormwater management protocol.
---
'Blue' space: Access to water features can boost city dwellers' mental health
theconversation.com
Officials are increasingly recognizing that integrating nature into cities is an effective public health strategy to improve mental health. Doctors around the world now administer "green prescriptions" – where patients are encouraged to spend time in local nature spaces – based on hundreds of studies showing that time in nature can benefit people's psychological well-being and increase social engagement. Much of this research to date has focused on the role of green space in improving mental health. But what about "blue" space – water settings such as riverside trails, a lake, a waterfront or even urban fountains?
---
Circular cities of the world: what can green infrastructure do?
theconversation.com
More than half of the world's population currently lives in cities while projections show an increase to two thirds by 2050. Many people living in small areas means large amounts of waste, high resource consumption and loads of energy use. We can combat these issues with the ideas behind the circular economy. If we were to envision our cities as circular cities, how would they look? Green. And why? Because achieving a circular economy means using nature as a template. With the help of green infrastructure, we can take nature as the example and transform our cities into circular cities.
---
Green City Profile: Potsdamer Platz, Berlin, Germany
urbangreenbluegrids.com
In an architecturally important area of Berlin, situated between the Landwehr Canal, the Kulturforum (the Berliner Philharmonie and the Berlin State Library) and the new construction on Potsdamer Platz, a series of urban pools have been realised, with a combined area of approximately 1.2 hectares. The scale, the inner-city location and the integration of ecological, aesthetic and civil-engineering functions are unique.
How to Manage 21st Century Runoff from a 19th Century Downtown NOLA Building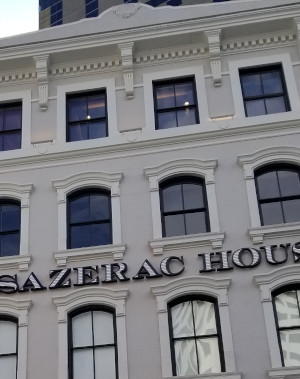 The Sazerac House, a new interactive cocktail museum in New Orleans, just opened in October of 2019. The 48,000 square-foot, historic building stands on the corner of Canal and Magazine Streets. The historic building dates to the 1860s, just yards away from the original Sazerac Coffee House. The building was left unoccupied for more than 30 years. When the Sazerac Company decided to develop the property, they had to address stormwater runoff, something that the building wasn't originally designed to manage. So, how do you manage 2,000 cubic feet of stormwater runoff from a 19th century building in an urbanized downtown location?
Construction EcoServices Launches New Website
Last month, Construction EcoServices launched the new company website. The new website offers a vibrant and modern design, deep but easy navigation, and helpful tools and resources to be viewed and utilized. The new website better aligns with the company's vision for future growth and expansion, as well as creates a more engaging and informative portal for our clients and our community. If you haven't seen it yet, click on the button below and take look.
GOT A PROJECT? GET IN TOUCH.
We offer stormwater consulting and value-engineering services, turnkey SWPPP compliance services during construction activity, erosion control solutions for slopes and channels, and post-construction compliance services for stormwater management systems for detention and stormwater quality treatment. Need help? Contact us today.
SUBSCRIBE
Each month, you can expect a professionally formatted and high-quality stormwater newsletter from us. Sign up, you'll be glad you did.